With its scenic alpine surroundings and fantastic summer weather, it's no surprise that Estes Park is among Colorado's top places to visit—no small thanks to Rocky Mountain National Park. Undoubtedly, the dramatic valleys, navigable foothills, and iconic peaks at Rocky Mountain National Park lend themselves to exploration and wonder. Still, several beautiful waterfalls are also found throughout the park, most of which are relatively accessible.
If you're planning a stay around Estes Park and want the inside scoop on some of the best waterfalls in Colorado, Fall River Village Resort has you covered!
Horseshoe Falls
Horseshoe Falls is a safe bet for those looking for a cascading waterfall that's easy to find. Located only 100 yards from Old Fall River Road, it's a perfect spot to stop when pressed for time. It's also a wonderful waterfall for exploring Rocky Mountain National Park for the first time. Take Fall River Road to Old Fall River Road, where you'll find the West Alluvial Fan Trailhead less than a half-mile further and the start of an easy hike.
Chasm Falls
Another Rocky Mountain National Park waterfall that's ideal for families is Chasm Falls. This unique waterfall is very popular in the summer, so you should arrive early. Still, you'll be glad you did, as it's one of the most picturesque features of the park, thanks to the way it seemingly bursts through the rock wall. The hike to Chasm Falls is well-marked and easy to navigate.
Copeland Falls
Located on the Wild Basin Trailhead, Copeland Falls is the first along the primary trail and not far from the entrance. Copeland Falls becomes more of a cascade during the snowmelt or heavy rain. One of its defining features is that it's a viable fishing spot for eager anglers.
Ouzel Falls
When you're ready to take on a moderate degree of difficulty, Ouzel Falls will be waiting for you. The 5.5-mile roundtrip hike and 950 feet of elevation gain are nothing to scoff at, but not impossible for intermediate adventurers. The journey to Ouzel Falls will reward you with several creeks and a trio of other cascades.
Ribbon Falls
Ribbon Falls is arguably the most challenging waterfall hike on our Rocky Mountains National Park list. Starting at the Glacier Gorge Trailhead that passes by another notable landmark, Alberta Falls, you'll trek nearly five miles to Ribbon Falls. As a bonus, you can go an extra .2 miles to see Black Lake Falls pummeling the lake from above.
Top-Tier Estes Park Condo Vacation Rentals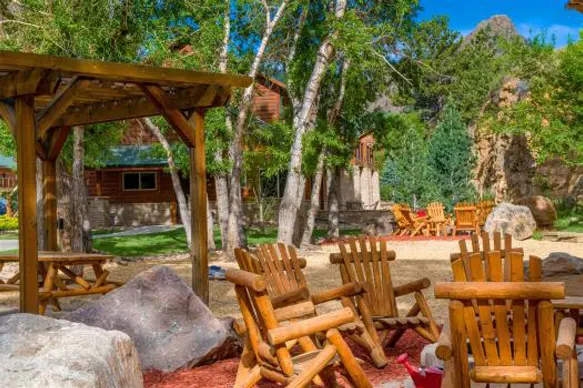 Although we shared only a few Rocky Mountain National Park waterfalls, we're confident our list will provide an excellent starting point. And if you want equally excellent Estes Park vacation rentals, look no further than Fall River Village Resort! Not only can we promise a place to rest after each exciting adventure, but we also have all the amenities you need less than a 15-minute drive away from the park.
To start planning your trip, please check availability online or call 970-325-6864 for more information today!