As the days become longer and the weather heats up, many quickly realize that summer will be here before we know it. Among the daydreams revolving around ice cream, picnics, and sunshine, family reunions are another warm-weather staple. And if you and your family are looking for the ideal venue for your family reunion in Colorado, Fall River Village Resort is a worthy consideration.
Colorado Family Reunions in Estes Park
Perfectly located along Fall River's Riverwalk and only two blocks from downtown Estes Park, Fall River Village has several amenities making it an excellent choice for a family reunion in Colorado. Not only can each family enjoy the comfort of a separate condo, but they can also still come together for fun and games in one of our meeting areas.
The 750-square-foot community room is ideal for gatherings of up to 35 people and includes a stainless steel refrigerator-freezer combo, two smart TVs, and accessible bathrooms. Outside features include a recreational space with fire pits, grills, hammock, yard games, and a picnic table. What more could you ask for? How about a free shuttle to Estes Park and Rocky Mountain National Park?!
Colorado Family Reunion Vacation Rentals & Amenities
The lodging is arguably the best reason to have your Colorado family reunion at Fall River Village. Our accommodations provide a premier vacation experience with the perfect balance of convenience and luxury amid a beautiful alpine backdrop. Ground-level condos feature cement patios, and upper-level condos have a balcony.
The kids and kids at heart will undoubtedly appreciate the heated outdoor pool and hot tubs. At the same time, those looking for serenity will enjoy the scenic mountain vistas of the Continental Divide, Longs, Peak, and Lumpy Ridge. Lastly, three distinct floorplans are available for poolside, riverside, or mountainside lodging.
Estes Park Lodging | Make Memories in the Mountains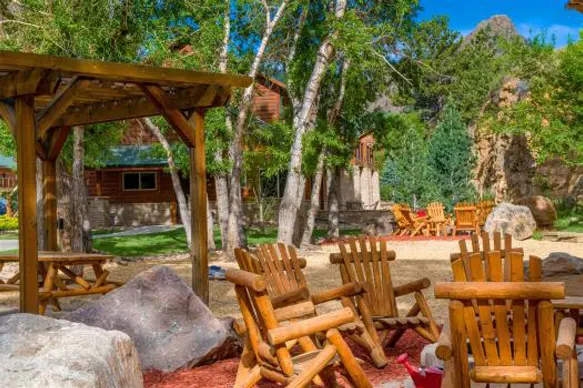 If you're planning a Colorado family reunion in Estes Park, the time to make your reservations is now! Not only do these rooms fill up quickly, but you'll need to get a head start to ensure neighboring accommodations. When you're ready to book, simply reach out online to discuss your plans, and we can go from there. Meanwhile, you and your loved ones can begin browsing our vacation rental collection to find out which condos will work best!
If you still have questions or want to iron out any pressing details, feel free to call us at 970-325-6864.